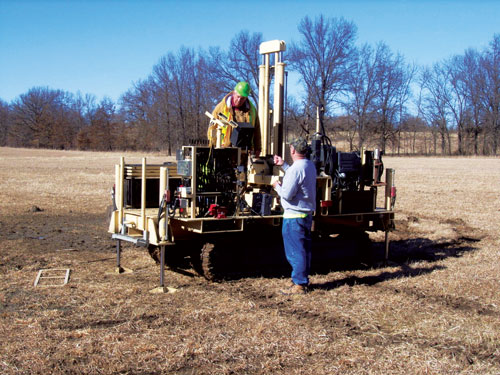 Soil Mechanics for GeoProfessionals Class Starts June 6.
Master of Engineering in Geotechnics


"Lone Bluff," located in the Rancho Bernardo area of North San Diego County is the site of a "block glide" which had been moving at 2" per year along a 2 degree slide plane, threatening several very expensive houses. Engineer and MST (distance ed) student Kevin Jordan (left) is supervising anchorage and drainage systems installations which have halted the advance of the slide.
---
The Geological Engineering Program at Missouri University of Science and Technology (Missouri S&T) offers an online Master of Engineering in Geotechnics. It is an interdisciplinary program and offers a variety of courses from Geological Engineering. Credit can be given for courses taken in the following programs:
Civil Engineering

Environmental Engineering

Mining Engineering

Geophysics
OUR MISSION:
Missouri S&T is one of the top geotechnology schools in the country. Our mission is to educate tomorrow's leaders in engineering and science. Geotechnical Engineering is one of Missouri S&T's missions. It has been recognized by receiving Mission Enhancement Funding from the State of Missouri for this purpose, enabling us to pioneer a distance learning degree in Geotechnics.
THE DEGREE:
The upward mobility of professionals in the geotechnical field requires advanced degrees, but not all are willing or able to take an extended leave of absence to attend a university. Web-based education allows students to continue their work, while taking virtual classes at their convenience. This degree is for professionals in government, consulting, mining and oil industries, as well as educators, from both the USA and foreign countries.