This program is an interdisciplinary master's degree program without a required masters thesis component. It requires 30 semester hours of graduate credit in 4000, 5000 and 6000-level courses. By university regulations, at least 3 of the courses must be 6000 level lecture classes.

The program is offered using distance-learning methods, so there is no formal residency requirement. Of the total 30 credit hours required to obtain the degree, a maximum of nine (9) credit hours of graduate-level work with a minimum grade of "B" can be transferred from other universities if approved by the program coordinator. (Classes must have been completed in the last five years to be eligible for transfer). The balance of the credits must be taken through Missouri S&T. A minimum of fifteen (15) credit hours must be geological engineering courses.
Admissions Requirements:
Bachelor's degree in related discipline
GRE: V+Q ≥ 298 (1050 on previous scale)*
GRE A ≥ 3.0
GPA ≥ 2.75
or enroll in

geotechnics certificate program

*, complete the four core courses with a grade of "B" or better in each to advance to the graduate degree.
* The Geotechnics Graduate Certificate does not require the GRE or TOEFL. Successful completion of the certificate program with grades of "B" or better in all classed results in acceptance in the ME programs, and waives the GRE requirement. Classes taken for the certificate will count towards the masters degree.

The following courses (or equivalents) will be required for admittance to the program:
GEO ENG 1150 Geology for Engineers
GEO ENG 2605 Statics and Mechanics of Geological Materials
MIN ENG 4823 Rock Mechanics I
or
CIV ENG 3715 Elementary Soil Mechanics

Required Courses**:
The following courses (or equivalents) are required:
GEO ENG 5381 Int. Subsurface Hydrology and Cont. Trans. Mechs
GEO ENG 5471 Rock Engineering
GEO ENG 5441 Engineering Geology and Geotechnics
CIV ENG 5715 Intermediate Soil Mechanics
or
MIN ENG 6842 Rock Mechanics II
In addition a practice-oriented project report is required for new students. This requires enrolling in three hours of GEO ENG 6400, and producing a practice-oriented report in a geotechnical-oriented topic approved by the program coordinator.

* *Curriculum is subject to change. Other courses approved by the program coordinator may be substituted for any of the above listed courses on a case-by-case basis.
Request Information
Ready to Apply?
Request Information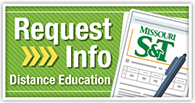 ‌‌Haven't decided if you want to apply yet? No worries. Just click the Request Information button and fill out the form. We'll respond to your request within 24 hours. You can always email gtech@mst.edu or call 573-341-6714 with any questions.
Ready to Apply?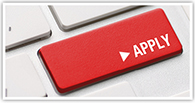 ‌Ready to apply?
Before you apply online, make sure you have all your application materials gathered. Click here for details. If you need help, email Student Support Services at global@mst.edu, or call 573-341-6591, or toll free 1-877-678-1870, and we will walk you through the application process.
Dr. Jeffrey D. Cawlfield
Professor of Geosciences & Geological and Petroleum Engineering
123 & 127 McNutt Hall
Rolla, MO 65409
Email: gtech@mst.edu or jdc@mst.edu
Phone: 573-341-6774
Missouri Online | Office of eLearning
Sylvia Skouby
Student Services
Phone: 573-882-0002
Email: global@mst.edu