Distance Graduate Programs in Geotechnics
Geotechnics Program
Missouri S&T is one of the top geotechnology schools in the country. Our mission is to educate tomorrow's leaders in engineering and science. Geotechnical Engineering is one of Missouri S&T's missions. It has been recognized by receiving Mission Enhancement Funding from the State of Missouri for this purpose, enabling us to pioneer a distance learning degree in Geotechnics.
The upward mobility of professionals in the geotechnical field requires advanced degrees, but not all are willing or able to take an extended leave of absence to attend a university. Web-based education allows students to continue their work, while taking virtual classes at their convenience.
Geotechnics ME
Geotechnics combines both the fields of rock mechanics and soil mechanics with engineering to form a comprehensive program of study. This is an interdisciplinary graduate program with a practice-oriented project. Courses include geology, geotechnics, soil mechanics, rock mechanics and subsurface hydrology.
This graduate degree requires 30 credit hours of coursework to complete, with a minimum of 15 credit hours of geological engineering courses.
Geotechnics Certificate
The Geotechnics Graduate Certificate Program is designed to provide formalized engineering education to practitioners in geology, geological engineering, mining engineering and geotechnical engineering. This online Geotechnics Graduate Certificate does not require a GRE score. Successful completion of the certificate program guarantees automatic admittance into the Geotechnics ME program, and waives the GRE requirement.
Request Information
Ready to Apply?
Request Information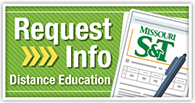 ‌Haven't decided if you want to apply yet? No worries. Just click the Request Information button and fill out the form. We'll respond to your request within 24 hours. You can always email gtech@mst.edu or call 573-341-6714 with any questions.
Ready to Apply?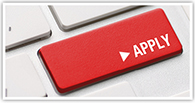 ‌Ready to apply?
Before you apply online, make sure you have all your application materials gathered. Click here for details. If you need help, email Student Support Services at global@mst.edu, or call 573-341-6591, or toll free 1-877-678-1870 and she will walk you through the application process.
Dr. Jeffrey D. Cawlfield
Professor of Geosciences & Geological and Petroleum Engineering
123 & 127 McNutt Hall
Rolla, MO 65409
Email: gtech@mst.edu or jdc@mst.edu
Phone: 573-341-6774
Missouri Online | Office of eLearning
Sylvia Skouby
Student Services
Phone: 573-882-0002
Email: global@mst.edu